GoldieBlox and the Movie Machine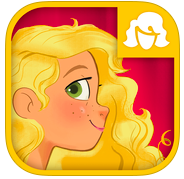 GoldieBlox and the Movie Machine
By GoldieBlox
In this app, you can make your own movies with GoldieBlox and the Movie Machine!
Your child can draw, color, sticker, and click to create their own digital animations and then enter them  into the Bloxtown Film Festival.
Availability: iPhone & iPad 
Made for: Ages 6 – 8
Launched: 10/16/2014
Cost: FREE
Category: Education
Does not contain In App Purchases.
Does not contain third party advertising. 
Educational Goals:
Helps your child learn the basics of animation.  This app also inspires creativity with the open play environment.
Video Walkthrough:
Top Features:
– Learn the fundamentals of animation
– Tutorial animations featuring the voice of Kari Byron of Mythbusters
– Exclusive, Worldwide Premier of the first-ever GoldieBlox Cartoon!
– Save and name your movies in your own BloxTown Film Festival gallery!
– Toolbox has everything you need to create your own movies, including:
– Snap a picture of yourself and animate a flapping cape: BAM! You're a super-hero!
– 3 brush shapes with multiple sizes & 16-color palette
– 20 stamps featuring fun shapes and starters: Rainbow! Mustache! Stars!
– Confetti celebrations and prompts to keep you motivated!
– AirPrint your movies to play with GoldieBlox and the Movie Machine toy set
About the Developer/Publisher
GoldieBlox is a company on a mission to inspire the next generation of female inventors. Founded by Debbie Sterling, Stanford Engineer and innovator, GoldieBlox creates award-winning toys that combine story and building to develop spatial skills, confidence, and introduce a much needed female role model character to a traditional boys club.