Toca Builders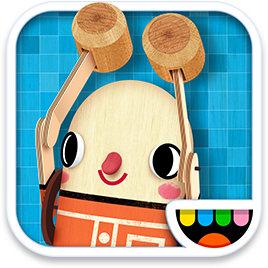 Toca Builders
By Toca Boca AB
Toca Builders – This creative building game for kids allows you to make a whole new world in one fun app! If you can imagine it you can build it with the six Toca Builders!  This is another "best in open creative play" by the folks at Toca Boca.
Availability: iPhone, iPad & Android
Made for: Ages 6-8
Cost: $2.99
Category: Education
Does not contain In App Purchases
Educational Goals:
Toca Builders promotes a new way of creating and crafting things with blocks, that encourages both creativity and curiosity. With simple touch gestures and unique controls the builders come alive and help create a world only you can dream up!
Video Walkthrough:
Features:
• 6 super builders
• Build whatever you want – drop, spray, lift and smash!
• Color each individual blocks as you want
• Unique controls of the builders – spin, roll, aim and move
• Autosave guarantees your progresses is saved
• Use the snapshot feature to take a photo of your creation
• Easy-to-use app for kids with a kid-friendly interface
• Incredible creative possibilities
• Beautiful original graphics
• No rules, stress or time limits – play any way you want
• No third-party advertising
• No in-app purchases
TocaBuilders by TOCA BOCA may use tools or third party analytical software to automatically collect and use certain data (Privacy Policy).