Windy's Lost Kite – Appisode 1
Windy's Lost Kite
By Loud Crow Interactive Inc.
In this appisode, your child will help Windy on her journey to solve the mystery of her missing red kite. Adventure through wintry woods filled with sugary snow and roller skate through orchards filled with colorful paper leaves. Meet some of Windy's friends and see if they can help.
Available for: iPhone and iPad (Download Appisode)
Category: Education
Made for: Ages 5 and Under
Cost: $2.99
Released: Oct 09, 2014
Developer:  Loud Crow Interactive Inc.
Parents only area safely separates adult controls
Learning Outcome:
Windy's Lost Kite demonstrates that cooperation and a positive outlook are essential to solving problems together.  Bonus games promote word association in English and French as well as letting children explore the different instruments in a song.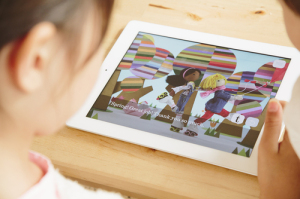 App Features:
* Mix of handcrafted stop-motion animation with innovative interaction and cinematics
* Touch, tilt and drag the screen allows for  exploring of the world of Windy & friends
* Original music, narration, and sound effects
* Three reading modes included for your enjoyment: Read to Me, Read Myself, and Autoplay
* Language support in English and French; toggle languages on-the-fly
* Musical Soundboard allows reader to play instruments with Windy and her friends
* Visual Word Map promotes word association in both languages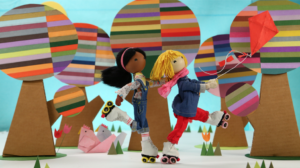 Note:
Appisode 2 in the series has been released….
Appisodes 3-6 are coming soon!